Facials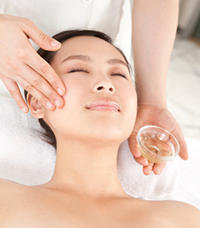 Our facial treatments can treat sensitive skin, dehydrated skin, mature and hormone-summer/sun overexposed skin.
Our Blue Tidal Enzyme Facial Massage uses a pleasant neutral fruit enzyme that gently provides the skin with the exfoliation-boosting effects of pineapple and papaya, along with high concentrations of marine minerals for hydration.
After a treatment, the skin should become less red and more tightened, pore size visibly diminished, and texture is firmer and more vibrant.
[Treatment time: 1 hour]