Vital Injector 2
Vital Injector 2 is a Hyaluronic Acid Skin Improviser Therapy
How does it work?
Vital Injector2 is an Aqua Lifting Automatic Injector (an upgrade of the original Vital Injector) with the latest technology of utilizing five micro-needles simultaneously, thereby maximizing the effect and significantly shortening treatment time. Vital Injector2 disposable filter system also promises a safe & hygienic procedure.
Technology
Vital Injector2 injects dosage with precision by adopting 5 multi-Needles. Its safe vacuum technique minimizes drug loss and minimizes pain by optimizing the speed of injection.
Benefits:
Fine lines reduction
Brightening
Moisturizing
Whitening
Collagen simulation
Skin rejuvenation
Pore reduction
Anti-aging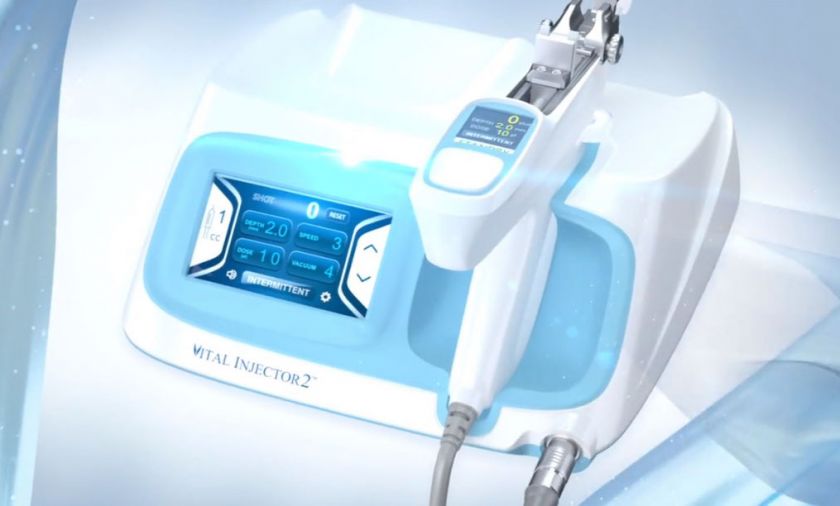 Treatment Procedures:
Using the applicator with five micro-needles and suction, the doctor would painlessly and accurately deliver essential ingredients to deep skin to improve skin texture. The treatment can be applied to the face to prevent and treat signs of aging and rejuvenate the treated area, delivering a natural glow as the special cocktail of nutrients (such as hyaluronic acid and botox) improves the skin and its appearance.
Recommended:
Once every three to four months for three times as a full set of treatment. Thereafter, once every six months to maintain results.
Why should I choose hyaluronic acid?
Hyaluronic acid is a natural element of skin, present throughout the human body. Hyaluronic acid has the unique ability to retain moisture. It moisturizes and at the same time revitalize the skin's outer layer, ensuring a softer, smoother, and especially appear plumper skin.
The most common side effects of hyaluronic acid injections includes: Bruises, Redness, Needle marks, Allergies, Inflammation, Infection, Swelling
Why should I choose Botulinum Toxin?
Botulinum Toxin effectively tightens the skin and pores, and at the same time, temporarily improve the appearance of moderate to severe wrinkles or frown lines (e.g. between the brows and crow's feet) another effect is slimming of jawline. Botulinum Toxin injections are effective for four to six months on average.
The most common side effects of Botulinum Toxin injections include sustained wrinkles, unbalanced eye brows, double vision, headache, swelling and tightness in skin.
Learn More: