LIPOSONIX Fat Reduction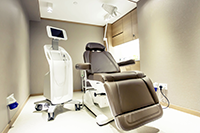 Liposonix is a non-invasive high-intensity focused ultrasound (HIFU) system that permanently destroys unwanted fat. One treatment that typically lasts for one hour can result in an average circumferential waistline reduction of 1 inch (or 2.5 cm) over the following 8-12 weeks as the body clears out the destroyed fat via lymphatic system.
Liposonix has received U.S. FDA approval on both safety & advocacy.
[Treatment time: 1 hour]