THERMAGE (Total Tip 3.0) Skin Firming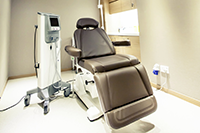 As you age, the collagen in your skin breaks down resulting in wrinkles & sagging skin. Thermage uses patented radiofrequency (RF) technology to safely heat the deeper layers of your skin, stimulating existing collagen and promoting new collagen growth for younger looking skin. Typical results are tighter skin with less sagging, softening of wrinkles & fine lines, and redefined contours.
Thermage is non-invasion with little to no downtime, and has received U.S. FDA approval for both safety and advocacy. At Cosmetic Central we use the latest Thermage Total Tip 3.0 which delivers two times greater bulk heating volume versus previous generations. One single treatment can result in lasting effects for up to 12-24 months.
[Treatment time: 1 hour for full face]