PELLEVE RF Wrinkle Reduction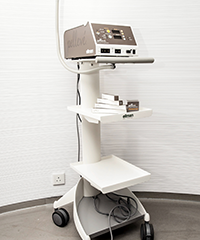 Pelleve is a unique radiofrequency (RF) technology that precisely delivers energy to the dermal tissue to induce collagen contraction and remodeling, resulting in tighter skin without damaging the epidermis.
The treatment is comfortable, non-invasive, has no downtime. Pelleve has also received U.S. FDA approval and is safe and effective for wrinkle reduction. Results from one treatment can typically last a few months. Monthly treatments are recommended for lasting results.
[Treatment time: ~40 mins for Face]

Pelleve can treat:
Cheeks slack skin
Nasolabial fold (commonly known as the tiger)
Lips wrinkles week
Eye wrinkles (commonly known as crow's feet)
Forehead lines
Drooping eyelids
Jaw slack skin
Expression lines